In and Out, Out and In
Jecza Gallery
Timisoara, Romania — October 14-December 18, 2022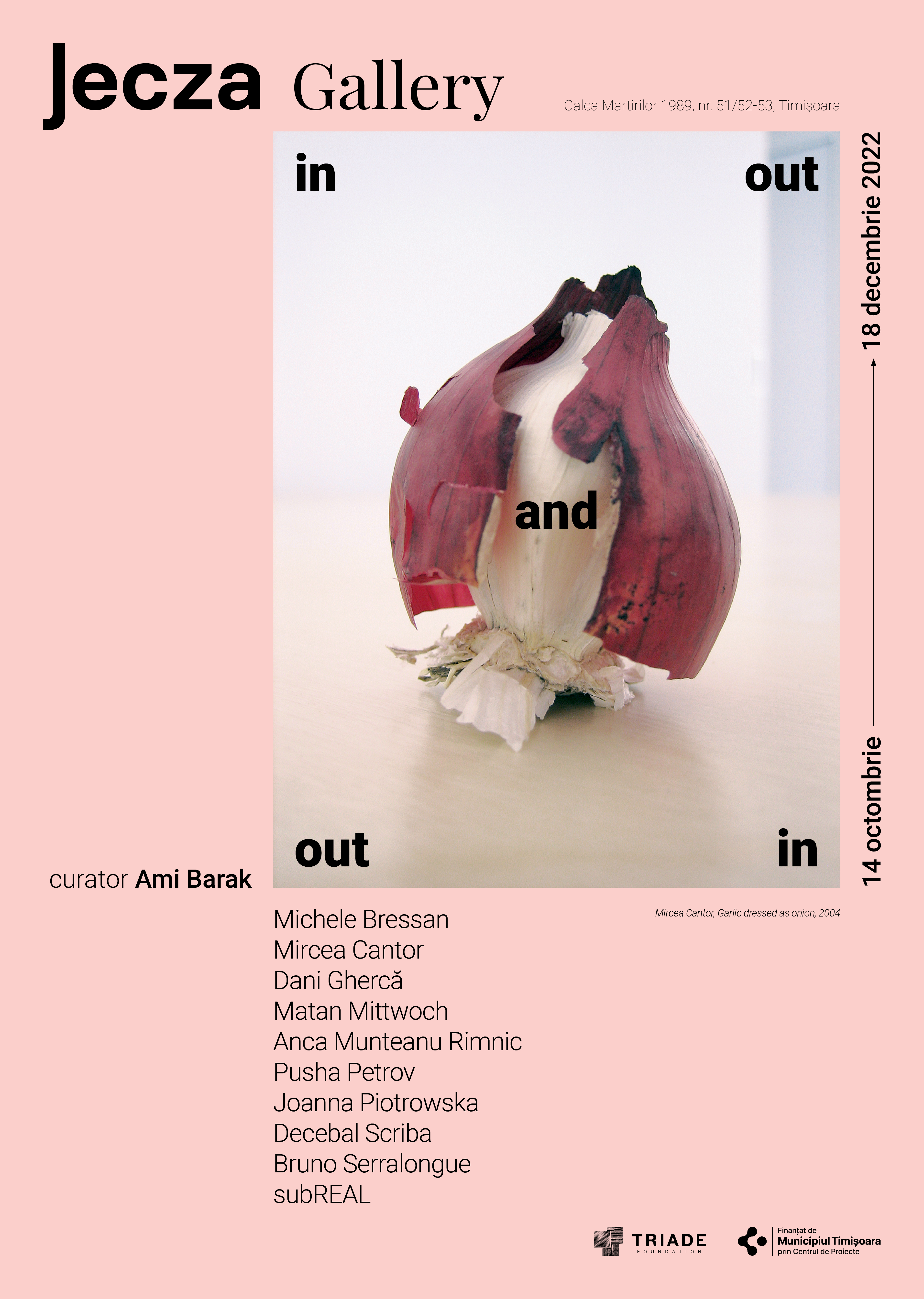 One of Lawrence Wiener's major works begins like this. The statement as advocated by the artist, allows the interpretation of the meaning of words to give another form to the work. Any place has an exterior and an interior and it is the same for a work of art, so much and more when it is a photographic work. Either because the image is turned towards oneself, that is to say an inferior, a portrait or a state of mind, or because it gives to see an exterior, which can just as well reflect a state of mind or a prior emotion.
The image is at the heart of the reflection of the artists present in "In & Out, Out & In". The exhibition aims to combine the double and reversible states of each project, establishing games of tension and oscillation between the real and the fictional, the collective and the intimate, the exterior and the interior, both in time and space.
Curator : Ami Barak
Michele Bressan (born in 1980 in Trieste, Italy) is an artist who has been living and working in Bucharest, Romania since 1991. His works document aspects of post-communist Romanian reality, using photography as a medium. The artist portrays representative, sometimes intimate, situations that function as a subjective visual diary. Through this kind of approach, Bressan allows the viewer to communicate with specific scenes, while witnessing the particularities and mechanisms of a society intercepted in its slow process of transition.
Mircea Cantor (born in 1977 in Oradea, Romania) is an artist of Romanian origin who has always considered himself a citizen of the world. His photographic work is rich and sheds light on the flaws and dysfunctions of the human being through the prism of our contemporary society. Poetic and allegorical, his entire work is characterized by this ability to deal with hard and complex subjects but always in an aesthetic suspended between reality and fantasy. He remains focused on human aspirations, meticulously observing our behavior. Questioning the human essence is essential, the artist wishes to deliver a formative work by drawing inspiration from various fields of knowledge in order to give meaning to human existence.
Dani Gherca (born in 1988 in Bucharest, Romania) is an artist who belongs to the emerging generation of Romanian visual artists. His large-scale photographs reflect on the current transition to a new phase of human consciousness that we don't yet fully understand. In Ghercă's cityscapes, in a time when life is changing faster than we can comprehend due to technological disruptions, the city is no longer represented by architecture or people but is reduced to an endless flow of big-data. By underexposing his pictures and twisting the image's perspective, he creates confusion, evoking a sense of urban and social alienation many of us experience today in a world that is changing at a super-fast pace.
Matan Mittwoch (born in 1982 in Tel Aviv, Israel) lives and works in Tel Aviv. He develops an approach on the invisible devices that allow us to observe the "behavior" of a touchscreen and therefore be able to control the process of creating an image, from its genesis to its duplication. His interest focuses on the failure of enforcing restrictions in times of fast-changing technological platforms and worldwide access to images and contents.
Pusha Petrov (born in 1984 in Timisoara, Romania) lives and works in Timisoara. She uses the photographic image wisely, deftly observing the intimacy of people and highlighting the details of their daily existence and their specific attitudes that result in preserving the singularity of each person. By taking pictures of objects or spaces, she symbolically shows the ordinary context of people, offering a sociological and aesthetic reading of lifestyles.
Joanna Piotrowska (born in 1985 in Warsaw, Poland) lives and works between London and Warsaw. Her practice focuses on familial structures and their relationship to  politics, economics, social, and cultural life. She explores the past and the present, showing all the inequalities of power and  is translating the gestures and everyday intimate behaviors into new scenarios. Piotrowska is showing the anxiety and psychological tension of the domestic space, rather as a document of a performance than a documentary image. 
Anca Munteanu Rimnic (born 1974 in Bucharest, Romania)  lives and works in Berlin, Germany. She investigates the fluid entity that is identity. She is not merely searching for traces, but rather develops new ideas that accumulate unlocatability and strangeness. In immediate, daily forms and situations she finds allegorical or visual references and develops them further. Many things can be of interest: blocks of salt, old carpets, stitchery, leather whips, a dancing body, the clacking noise of tap shoes, scattered millstones. Presented next to carefully composed photography, one could argue that these are still lives of sensitivities, but they have a tangible presence that exceeds description…(Gerganga Todorova)
Decebal Scriba (born in 1944  in Braşov, Romania) he arrived in France in 1991 and lives and works in Fontainebleau-Avon. Decebal Scriba became known in the 1970s and 1980s as a leading figure in contemporary art. His productions are now considered as revealing of a Romanian post-war avant-garde. Thanks to a coherent corpus elaborated from heterogeneous mediums: photography, installation, performance, video art, the artist tackles at the same time conceptual and performative art, questions of formal and textual language, spatial representation or the symbolism of gestures and forms.
Bruno Serralongue (born in 1968 in Chatellerault, France.) lives and works in Paris. Since the early 1990s,  has been developing a body of work that questions and reveals the conditions of production, distribution and circulation of the media image. Although he is not a photojournalist in the strict sense of the term - he does not work for any media - Bruno Serralongue nevertheless photographs current events and the major events that make them up. In contrast to the spectacular treatment of the mainstream media, his artistic approach to the documentary image favors off-field, long time and collective movements.
Funded in 1990 (Calin Dan and Iosif Kiraly) subREAL is stamped by post-conceptual attitudes, overstated with irony and self-mockery, subREAL was the first to introduce an operating mode that challenged the viewer's knowledge. Their historical reflection explored the native artistic, institutional context. Over short period they had been flexibly inspired to social and institutional issues.
External links