Romances sans paroles
Kunsthalle, Mulhouse — July-August 2010
Romances sans Paroles (Romances without Words) is a mirror exhibition. It reflects our time, our concerns, it brings worries and annoyances, but never goes belly up.
The works collected show a vast and difficult world to identify who seeks and tests himself. Romances without words of Verlaine are mysterious and bitter but those of Mendelssohn are melodic and graceful and it is on these two tonalities that the artists of the exhibition express themselves. They seize the objects of their daily life to question them on plastic modes ranging from sculpture to photography, video, installation to drawing.
A first set of works introduces the notion of limits. Through movement, rewriting, artists decompartmentalize their environment. Mathieu Mercier builds a Bird Cage using a vector process usually intended for the computer image. Bertrand Lavier questions in Walt Disney Production the status of the sculpture resulting from everyday life by giving value of work to a sculpture that was not originally. This study of the limits leaves a beautiful place to the irony, the shift. It requires a fine observation but is defined by its experimental quality. We commonly say, "seek its limits", Roman Signer tests them through its facilities. Mircea Cantor with his Chaplet traces them with force and emotion on the edges of the space to denounce their border status. In Here is Johnny! Jeremy Ledda considers the dead end, obsessional and impassable while Laurie Franck with Mickey and Happy End dares to exceed and suspect beyond a disenchanted world.
To be interested in limits is also to ask the question of equilibrium, points of rupture. Daniel Firman is his research subject and Gathering is the trace of one of his experiences. The art of assembly, which is very present in contemporary sculpture, also makes it possible to plastically pose the conditions of equilibrium. In a game of duality (Grilled Kayak),  Jean-Michel Sanejouand combines a kayak and a roll of wire, while Reiner Ruthenbeck in Tuch mit Spannrahmen interlocks fabric and metal and confronts the square round. This set of assemblages of materials and forms summons their characteristics in order to weaken them and to extract their relativities.
At the same time, other artists are interested in defining or redefining territories or questioning their identity. David Renaud with Mego Aroug, Abyssinia represents a territory unknown to its public, but the time of a work attracts all eyes. By a process that both complicates and simplifies the topographical reading of a site, it moves our interests towards a region of the world that only he erects through his work. Federico Guzman, through a principle of travel, travel and meetings, redraws a global cartography made of focus and humanity. Claire Willemann with the Well introduces a temporal dimension in this same study of the territory. His work with spatial disturbances invites observation. Joe Scanlan, and his Flexible Hifi, moves the issue of territory in the field of industry and through its interest in design, defines a space that would no longer be subject to the standards imposed, in his opinion, undemocratic. Pascal Auer finally invents another territory, virtual and fictional, that of his label Parasite Rec. It develops a project anchored in no geographical reality and which exists according to a flow chart and a logic proper.
The definition of new spaces cannot be understood without a quest for identity. Jimmie Durham, American Indian, says today nomad and citizen of the world but in works like Teeths he affirms its roots and what they constitute it. Matthew Day Jackson in Pitfalls of Utopian Desire also pays close attention to the history of his America and its possible future. Marie Verry opens up more to intimate territories, gives free rein to her dreams and visions and builds herself from this inner world as well as with "real" images.
Romances without Words (Romances without Words) leaves without doubt a melancholy impression. It rains slowly on the city would have said Arthur Rimbaud but our artists in spite of their dark moods take a poetic and ironic look which makes rather smile and lets glimpses imaginary worlds, why not visionaries, quite pleasant and attractive.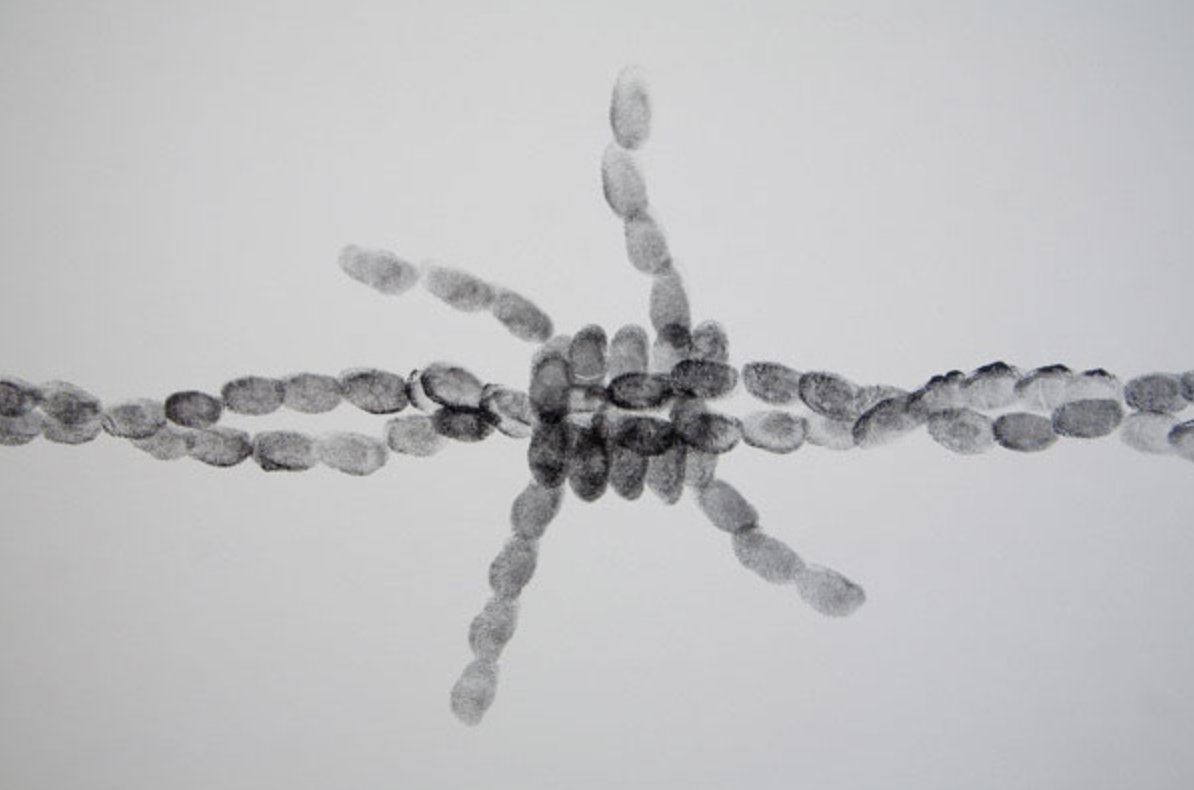 Pascal Auer
Mircea Cantor
Matthew Day Jackson
Jimmie Durham
Daniel Firman
Laurie Franck
Federico Guzman
Bertrand Lavier
Jérémy Ledda
Mathieu Mercier
David Renaud
Reiner Ruthenbeck
Jean-Michel Sanejouand
Joe Scanlan
Roman Signer
Marie Verry
Claire Willemann
External links