Every bird finds his nest beautiful
An installation of Ana Adam
Jardins de l'Institut français de Timisoara, Roumanie — September 7, 2022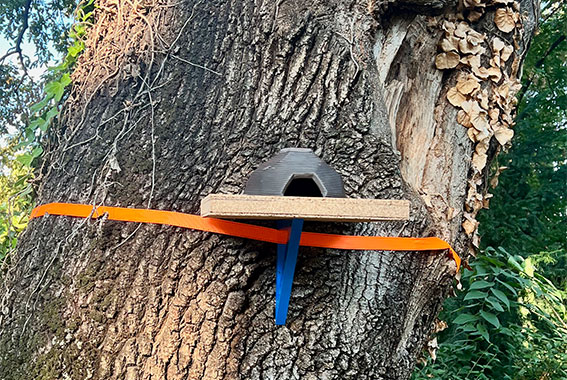 At the invitation of the French Institute of Timisoara, Ana Adam built 3 nesting boxes on majestic trees in the beautiful Garden of the Institute. An artistic gesture can have a final purpose but it still remains a way to observe the world and discover the lessons of wisdom provided by nature. Birds, by their way of being in the world, teach us a most respectful art of living – in profound meaning too. Birds build cozy nests that respect the natural balance and offer all the desired comfort to accommodate a future little family. Birds are therefore mini ecological architects! The artist is inspired by the ingenious and surprising birds, laborious master builders who ignore each other, through a symbolic reflection and an ecological approach.
The presence of a geodesic dome in the garden, a self-supporting semi-spherical structure of ideal proportions, push on the Ana's inspiration. By its shape, it offers an optimal volume in relation to the surface on the ground, a structural integrity facing any weather and a... maternal comfort. This thin-shell structures mixing design, functionality and elegance are always fascinating. Its structure gives it, at the same time, great resistance to strong winds and snow. Since the dome is considered a type of Sacred Geometry, many mystical characteristics are attributed to it. It is said that any living being inside a dome-shaped structure will be better connected to the universe and cosmic energy, and will feel like in the womb. Being a spherical form where the air circulates in it continuously reducing the proliferation of humidity, fungi or bacteria. Its inside acoustics are excellent, as well as a feeling of infinite space, in the absence of pillars or columns.
The material chose for nesting boxes is terra-cotta, a millennial material that respects the environment, presenting notable longevity and energy performance in addition to aesthetic qualities. By deliberately choosing this material to build her work, Ana Adam is part of a fair relationship with nature, considered as a "being" in its own right.